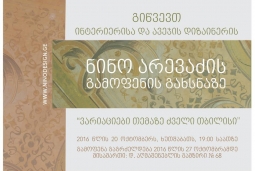 "Variations on Theme Old Tbilisi
The inspiration source for Furniture Collection "Variations on Theme Old Tbilisi" is architecture of old Tbilisi particularly unique wood curved ornamental details of old city famous balconies hat create the unique character of our beloved Tbilisi, variety of forms and shapes made in stone and wood, also colorful, delicate fragments of disappearing murals on the 19th century entry halls.
Exhibition was held on October 20th in exposition hall "Galerea" on Agmashenebeli avenue.
All pieces of created furniture are made of natural materials: wood, metal and fabric.
Now today part of furniture collection is exposed in Art Palace on Kargareteli str.6.