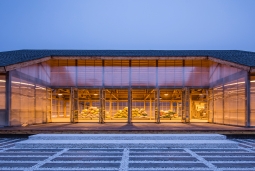 Organic food plant by Arch Studio references China's hutong housing
This formation of pitched-roof buildings interspersed by courtyards references the hutong housing found in northern Chinese cities like Beijing.
Named Organic Farm, the project stands on a 6,000-square-mete patch of farmland outside the city of Tangshan. The site is surrounded by village housing, so the architects wanted to fragment the scale of the building in keeping with this small-scale architecture.
"The design is inspired by traditional courtyard buildings," explained architect Han Wen-Qiang.
"The initial idea is to build a magnified courtyard house – a workplace full of natural atmosphere and flexibility, a workplace that is self-contained, and forms a corresponding relation with the surrounding broad and flat field."
Raw foods are delivered to the plant to be processed, packed and distributed as finished products to shops.
Blocks dedicated to these different activities are arranged around a large courtyard in the centre, which is used for sun-drying grain.
A veranda around the edge of this space links to each of the four processing areas, as well as to smaller courtyards containing planting. Several further courtyards set around the outer facades of the buildings provide entrance points."The space, structure, materials and the multiple layered exterior courtyards together creates a warm, natural and continuous working atmosphere for this farm," said the architect.The buildings have glued timber frames – a method chosen for its ease of construction as well as relatively low cost – and facades made from translucent polycarbonate sheets.
Each block is raised on a 60-centimetre-high platform, keeping the wooden frame above the damp ground.
The translucent facades are illuminated from within at night, giving the whole building the appearance of hovering just above ground level.
Arch Studio is led by architect Han Wenqiang. The firm has previously converted a Beijing hutong into a tea house with curving glass courtyards, and added a sculptural white staircase and glass-roofed extension to a house in the city.